Aggressive Strength UK Summit 2013: Program Design, Kettlebells, Power Training, Hormone Optimization
Begins: Saturday, October 19, 2013 at 10:00 AM EDT
Ends: Sunday, October 20, 2013 at 06:00 PM EDT
Don't even think about missing out on the Aggressive Strength UK Summit 2013
Kettlebell Training, hormone optimization, power training, and program design for athletes all at one event!

I've now done two of Mike's workshops and on both occasions I have been blown away by his knowledge and application of kettlebell training technique. The thing that makes these workshops so valuable is the opportunity to get your own technique refined and adjusted by one of the world's leading coaches - something that you simply cannot get just by reading books or articles on the internet. For anyone who wants to accelerate their ability, training with Mike is essential. His hormone optimisation knowledge is equally impressive. He is leading the way in educating trainers on this vast but often overlooked element of health and wellbeing. It's clear that Mike has invested years researching the subject and he gives you a practical interpretation of his findings, which you can apply to your own life and to that of your clients.
--Jon Lipsey, Men's Fitness UK Editor
I'd like to take the opportunity to show my appreciation for the workshops and seminars yourself, Brooks, CJ and Sabina put on in London recently
For some time I have not been on what you could call a practical type workshop like this because after doing many before I hadn't seen anything that was going to add more value to the work I do within my communities but when this came along to book earlier this year I didn't hesitate and come the end of the weekend I wasn't disappointed - it was worth every penny and can't recommend more for the value provided and the personal, supportive and friendly approach of the coaches!
The mix of detail and application going into many of the lifts and exercises was perfect to ensure we used great technique and improved over the course of the weekend. Anyone who considers themselves an experienced lifter in barbell, dumbbell and/or kettlebell could only improve further on a course like this.
The variation was also of great value. After using all the methods above for sometime now I still managed to come away with plenty of new exercises and lifts that are both challenging and add to the variation of new programs without simply changing for the sake of it. The new programs will be of great benefit to myself and my members
Finally the seminars on hormone optimisation were too special for words...I simply had a big smile on my face afterwards from all the great content delivered, knowing the impact it is going to have. Your education on the information is second to none - the way you deliver it is exceptional and the whole audience was captivated by the information and how it will be used in their lives and those close to them to huge benefit
In fact I've been so impressed that I will be working with you more and more in the very near future!
Thanks again to you and the rest of the Dinosaur Team
--Mike Bach, UK
Having been in the fitness industry for 10 years, I have obviously come across Mikes' work and have always been keen to meet him in person and hear what he has to say regarding his methods etc. To say he is passionate about what he does is doing him an injustice. Mike lives what he teaches and unfortunately that is becoming less so within our industry.
Mike has a very unique style of coaching. Through humour and unparalleled knowledge about his chosen field, he finds a way to communicate to everyone at their level and gets the class learning/training as a team. This is great as everyone digs in and gets on with it with the support of the rest of the group. No one feels left out.
Mike lectures in a way that is straight to the point, without leaving his students baffled or confused. He is focused entirely on the information he is trying to get across without going off on tangents. The topics Mike spoke about were as relevant to todays way of living as any lecture I have sat through, maybe more so. And he knows what he talking about.

Mike is certainly someone who not only lives it, but loves it. He obviously works hard, plays hard and trains hard. I recommend that his courses should be considered by anyone looking to better their training and life ideologies.
--Chris Mortimer, Personal Trainer, London
When:
October 19-20, 2013
Where:
Crossfit Bold
1a Haslemere Industrial Estate
Ravensbury Terrace
Earlsfield
London
SW18 4HS
Time:
10am to 6pm each day
Course Introduction
I am ecstatic about teaming up with Dan John and Sabina Skala to put on an incredible two-day event that you don't want to miss. To say that a wealth of information will be delivered, would be the understatement of the year. You're going to leave this course fired up and ready to take your own training to the next level. Moreover, if you are in the fitness business, you will be fired up to share what you have learned with your clients. This course is going to be an absolute blast so make sure you get registered today before it sells out.
This is going to be a fantastic course. I am going to get into advanced kettlebell training techniques that will allow you to maximize performance and benefits for KB staples such as presses, snatches, cleans, and swings. In addition, I will cover difficult exercises such as double kettlebell snatches, complex drills such as the full body attack, stacked kettlebell training, and advanced bodyweight exercises such as: dragon flags, one legged squats, and headstand leg raises.
I am also going to go into detail on how to optimize hormones such as: testosterone, progesterone, growth hormone, insulin, leptin, DHEA, DHT, and estrogen naturally. The goal is a balance among all the hormones not to take one super high and another low. I will go over natural strategies to optimize sex hormone for both men and women. I will also give a lecture on the importance of brain health optimization and how it correlates to improved physical performance.
You will learn why you need to make natural hormone optimization a priority. Not just to improve physical training performance, but to simply feel great day in and day out. Do you wake up with energy and zeal for life? You should and it all starts with your hormones as our hormones have far more influence on how we think and feel than the other way around.
If I were the only person teaching at the course, it would be more than worth your time and hard earned money. However, I believe in making ridiculously compelling offers and that is where Sabina Skala comes in.
Sabina is an incredible strength coach with impeccable attention to detail. She teaches Olympic lifting fundamentals better than anyone I have seen and I have seen many people teach it! I also had the pleasure of watching her train a few of her clients at my last UK trip and I was very impressed with how she was able to fix clients technique problems quickly and keep them motivated and focused. Sabina leads from the front by training hard herself and has an unquenchable thirst for knowledge. You will love working with her.
Sabina is going to cover power training for sports performance, different types of power training, how to perform the barbell clean, power clean, hang pull, jerk, and power snatch. Sabina will also reveal dynamic warm-up variations, work on dynamic flexibility, and cover how to correct and overcome limitations. You're going to have a blast learning from her as everyone at the Dinosaur Training UK course did last year
Finally, I am very excited to bring over world renown strength coach Dan John. I saw Dan present at a convention several years ago and I was very impressed! Dan is an extremely charismatic presenter and has forgotten more than most fitness experts will ever know. He is superb at cutting through the non essentials and focusing on what works extremely well. You will love learning from Dan and you don't want to miss this rare chance to work with him.
Dan is also one of my favorite fitness writers. His books Never Let Go and Intervention are must reads for anyone interested in strength, conditioning, and optimal program design.
The bottom line is Dan is an exceptional presenter, coach, and writer. You're going to love hearing his ideas on optimal program design for athletes, strength and conditioning, plyometrics, and goal setting.
Okay, enough with the sales pitch, lets provide some more info to make your decision an easy one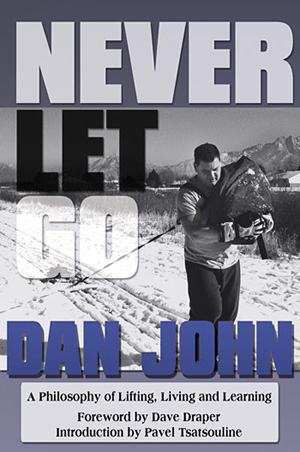 Here is some detailed information on what Dan John will be presenting
What is the impact of the strength coach to sport? Shouldn't it be obvious? Then, why doesn't the team with the best gym numbers ALWAYS win?
Should a 1,000 pound deadlifter jog, swim and bicycle? Play in a local basketball league? Should a 12 year old boy rest five minutes between his sets of 92% max on his squat?
What's a quality, anyway?
Why do the lousy guys do so much more work than the great guys?
"Do you want to be stronger or lift more weight?"
Have you earned the right to train "sport specific"?
Why does it need to be "Strength & conditioning," not "conditioning & more conditioning"?
Do you really need plyometrics? Or, any other new hot idea?
If a training principle was considered backwards and nonproductive in the early 1960s, why would you model your career after it?
The Incredible Hulk, Sir Galahad and Bobby Fisher get into a contest. Who wins? How does armor help an athlete and when does it hurt?
The goal is to keep the goal...what? Why does everybody miss this point?
Where is Peggy Lee? Is that really "all there is?" Why does five minutes of work on a piece of paper with a few lines radically increase the chances of success?
Five Moves. Three Points. Why do I feel like maybe those zeroes are a bad thing?
Why is my favorite sports diet Frogs, Elephants and Alpo Dog Food? Losers get more out of losing than winners get out of winning. Strong statement...but true?
Also, hands on training and Q and A throughout the sessions.
Dan's background
34 years teaching and coaching at the high school and collegiate levels
Renowned Throws and Strength Coach; Head Track and Field Coach
American Record Holder, Weight Pentathlon and National Champ (Masters) in Discus Throwing, Olympic Lifting and Weight Pentathlon)
Two-time champion of the Pleasanton Highland Games
Editor of Get Up!, the free online newsletter for lifting and throwing
Author or "Never Let Go," "Mass Made Simple," "Easy Strength" and "Intervention"
Keynote speaker at multiple fitness events and popular workshop speaker
Fulbright Scholar to the Middle East
For more information on Dan John, make sure to check out his website at: Dan John
Here is what people are saying about Dan
One of the biggest hurdles for those of us who compete in the iron game is coming to grips with the fact that we can't beat ourselves into submission for months on end without consequences. Dan John's latest book, Intervention, drives this point home and offers a saner alternative, called simple strength, where even advanced lifters can reach new heights without lifting at joint jarring high intensities for so much of our annual training cycles.

Coach Dan provides a viable, user friendly path to more strength, better conditioning, less injury, and increased longevity. His work has had a profound effect on the way I look at training and programming. Highly recommended for any strength athlete.
If you don't know who Dan John is, he's a legend in strength training.
I was curious if Coach Dan could possibly write a book as important as his previous work "Never Let Go," which is in a class by itself.

"Intervention" is an outstanding book by an authentic expert in the area of strengthening and conditioning. This book exceeded my expectations.
I knew it would be good, but wasn't sure how he could possibly top the work of Never Let Go.

"intervention" is a system. 10 questions, 5 principles that can completely change the way you train or work with clients.
If you're in the fitness industry, this is an absolute "MUST READ" to get rid the clutter and truly understand what is most important.
I was blown away by the content. A simplistic approach to focusing on what really matters.

If you want to improve your own training, read this book. And, certainly if you want to improve others and really help people, read this book.
Insightful, practical, and superbly written. Focus on the fundamentals. Dan does a wonderful job of explaining why this is critical in our training.
And, the 2 biggest objectives we all should focus on are clearly explained. This is breakthrough information, in my opinion.

Programs, philosophy, and no fluff, zero! An instant classic? Absolutely. I truly hope that this book gets into the hands of many and people implement intervention.
An outstanding read from start to finish! Pure brilliance!!
I highly recommend getting this book and setting yourself apart by following the "intervention" system.
--Scott Iardella CSCS, CISSN, RKCII
Dan John's Intervention is to the business of fitness what Euclid's Elements was to geometry, which is to say that Dan has taken something so naturally complex, and made it so easily comprehensible, that it teeters on the egde of believability.

If you are a fitness professional easily frustrated by the occurrences that make you think "now why didn't I think of that", then you will, like me, at times feel slighty underpriviledged, intellectually, while reading this book.

Intervention delivers the sagely advice that only Dan John is authorized to issue, and at times, makes so much sense that it hardly makes sense. I would estimate, graciously, that people as knowledgeable as Dan John constitute one eighth of one percent of the population, and it is rare that such an opportunity comes by that you are granted the chance to learn from these people...but you've got one here, so don't let it slip through your fingers.

Buy this book and "let success happen."--Pat Flynn
Next here is what Mike Mahler will be covering
First off let me tell you who I am. I am a Kettlebell Instructor and hormone optimization researcher based in Las Vegas. I am the author of several training DVD's including: The Kettlebell Solution For Size And Strength, and The Kettlebell Solution For Fat Loss And Mental Toughness I have done over 150 Kettlebell workshops across the US and overseas.
I am the author of two books: "The Aggressive Strength Solution For Size And Strength" and the best selling "Live Life Aggressively! What Self-Help Gurus Should Be Telling You."
Finally, I am also a nutrition supplement designer and have a few supplements under my label including the Aggressive Strength Testosterone Booster as well as Aggressive Strength Recovery Oil
What you will learn from Mike
Mastering the double clean. Should you wrap your hands around the bells or let them flip over and absorb the shock? Depends on your body type. Learn more about each variation.
Timing the hip drive with the foot kick to create the most powerful kettlebell snatch
The Double Kettlebell Snatch! Outside the feet, inside the feet, and variations such as the high pull and half snatch to work up to the full Monty
Sprint pressing and why it is beneficial for building strength endurance and very strong triceps
Why the idea of straight line is one you want to apply to presses, cleans, rows, snatches, swings
The benefits of the low position lunge and wrestlers lunge for strong quads and balanced leg development.
The advantages of doing double swings and double snatches with the bells on the outside of your feet and how to do it.
Advanced rowing exercises such as the renegade row and one-arm stacked row for optimal posture and balanced upper body development.
Why body positioning and leverage is more important than maximum tension for strength and efficiency
Why the dragon flag is the ultimate core exercise and how to master this elusive core exercise.
How to avoid over-training the shoulders with kettlebells. Just about every kettlebell exercise is a shoulder exercise. Learn which ones to focus on and which to cut out.
Why the double Kettlebell swing is the best ballistic KB exercise for strength and power and how to handle more weight than you ever imagined in the safest manner possible.
The best KB exercises for speed and explosive strength
Develop incredible explosive power with the Full Body Attack
The biggest mistakes that kettlbell trainees make with program design and why many KB trainees are over-trained stimulus addicts.
The critical role of nutrition and supplements to get the most out of your training.
Why nutrition supplementation needs to be personalized
Bonus lectures: Optimizing sex hormones naturally and the importance of brain health optimization
The critical role of nutrition and supplements to get the most out of your training.
Why nutrition supplementation needs to be personalized. The optimal ratio of testosterone to estrogen ratio for both men and women
Why hormone optimization starts in your brain: the 4 brain chemicals that you must optimize for brain and body health
Which supplements work and which ones you should avoid
Why progesterone is critical for women and how to keep it up optimally to avoid estrogen dominance
Supplements that work really well to block the conversion of testosterone to estrogen in men
Why brain health optimization is the most underrated area of improving physical performance
Brain drugs that work incredibly well and why you should be taking them
Supplements that work for androgen receptor uptake and for increasing insulin sensitivity
Spices you should add to meals and protein shakes to balance brain chemistry.
Why hormones need to be optimal for long term fat loss and muscle gain.
How to increase growth hormone naturally and why no other hormone correlates with aging well more than GH
The two best supplements to take for increasing free levels of testosterone
Why DHT is important for men and which supplements to take to optimize it
The most important vitamins and minerals for sex hormone optimization
What People Are Saying About Mike
---
"Good morning Mike! Just wanted to share some pics from the Fort Hood KB Club via Baghdad. The team is doing well and staying safe, although we did lose a close friend on the recent helicopter crash. I truly enjoyed your "Aggressive Strength Solution for Incredible Kettlebell Training". I am planning on ordering your latest Ebook "Aggressive Strength Solution for Size and Strength". Would I have your permission to share this with the team members here in Iraq? I believe I have stated this before in previous emails, but just wanted to say thanks again for the great web site and free articles. Your contribution to the fitness community is duly noted."
- David COL Jon "David" Mullins
---
"Mike Mahler is an expert in the challenging field of sports conditioning. His unique and innovative teaching tactics guarantee high retention of these one-of-a-kind workouts. His extensive knowledge feeds a powerful passion to explore the human body with safety and strength. If you get a chance to train with him; do so or regret it."
- Frank Shamrock, Five Time UFC Middleweight Champion
---
"I often get this question asked at seminars. Who do you respect in the industry? Mike Mahler is certainly of the most decent beings and leaders in the fitness industry. Mike loves to help, and he does it from the bottom of his heart, that is what makes him a great leader. Zero ego, all heart. Great job Mike."--Charles Poliquin author of Modern Trends In Strength Training And The Poliquin Principles http://www.charlespoliquin.com
---
"My Name is Harley Flanagan I am a Purple belt under Renzo Gracie some of you may know me from my bands the Cro-mags, Harley's War and others. I have always been into working out and over the years I have suffered from various shoulder injuries. After just one of Mikes seminars I felt improvement in my shoulder. A lot of my injuries from grappling and life in general got aggravated by using standard weights. However, when using kettle bells I felt improvement in my strength and in those weak areas. These damn kettlebells get you strong as hell, but I would never suggest playing around with them without proper instruction. That's why you should get in touch with Mike Mahler and check out his Dvds and his seminars! You will be glad you did whether you are a martial artist or just into strength training these things are the bomb! This stuff will REALLY get you in top shape for MMA or anything else life throws your way!"
- Harley Flanagan, Cro-mags / Harley's War www.hardcorehalloffame.com and www.cromags.com
---
"Since I have been using Mike's techniques I have gotten into absolutely amazing shape. I'm proud to say it! I cannot recommend his expertise enough. In the past few months, everyone I know has asked me how I got so fit and I direct them all to kettlebells and Mike Mahler. Mike realizes that everyone has different training goals and what they need to do to achieve them. He knows what works and what doesn't and will get you where you want to go. Thanks Mike, you seriously kick ass!"
- Chris Pontius of MTV's Wildboyz and Jackass
Next lets talk about fitness expert Sabina Skala!
Next up is my friend and top UK trainer Sabina Skala. I had the great pleasure of working with Sabina at my courses in Scotland last year. I was very impressed with her strength and conditioning as well as her knowledge on effective program design. Last this year I worked with her at the Dinosaur Training And Beyond course and was beyond impressed with her. All of the attendees loved her material and she was aptly nicknamed The Barbell Princess! Her attention to detail is second to none and her emphasis on optimal technique and safety is soemthing all trainers should emulate. Sabina loves what she does for a living and you will absolutely love working with her.
Here is some more info about Sabina
Sabina Skala hails from Poland and is a certified and experienced Strength and Conditioning coach, founder of CJSFitness London, plus the successful Fighters Development Program. She has authorized several workshops that explore the potential of strength training for athletic development, including the UK acclaimed "Training Day". Her constant commitment and thirst for knowledge means that her stable of clients includes professional MMA athletes and others that require high performance results.
A former competitive athlete Sabina Skala's driving force is to slam home that each is truly responsible for the performance potential and you are capable of limitless possibilities, when you put your mind to it with the correct knowledge. Dozens of people have benefited from training with Sabina Skala, who is also a published author and has featured in internationally celebrated magazines such as Men's Fitness
What you will learn from Sabina
Power is that 'magic' feature desired by nearly every athlete. Everyone can become powerful. Its true some have a better genetic make and will be stronger and faster than others, whose muscle fibres are more of slow twich/endurance type. The point is to know how to safely explore and release the full genetic potential for power development in an athlete.
Everyone attending will leave with new information and better understanding of various methods of power training. How and when they should be applied and periodised so that they unleash the full athletic potential in your clients. You will find out how important power training is in relation to different sports and how much time should be devoted to its development.
Here is what people are saying about Sabina
I've trained with Sabina for almost 2 ½ years and trust her 100%. The sessions are always challenging and enjoyable without ever becoming repetitive and the results have been very good. She has improved my strength, muscle endurance and aerobic endurance an amazing amount since we started working together as well as help to cure some back pain which I had had for a number of years previously. She is extremely professional in her presentation and demeanor and her knowledge still impresses me even today
--Will Sherling (former Premiership Footballer)
I have been a member of 8 different London gyms over the past twenty years, but have never come across the quality and type of training that Sabina teaches. I can honestly say that I am now far fitter and stronger than I have ever been in my life, and Sabina has changed my whole perception and practice of gym training. Even the knee problem I had from an injury a few years ago has been resolved. What makes Sabina exceptional, I think, is her own inspirational dedication and drive for her own fitness, a dedication which means that her clients always get the most effective and up-to-date techniques for fitness training, but always in a safe and manageable way due to her extensive understanding of body mechanics. Overall, I would rate Sabina the best trainer I have come across in London."
– Andrew Paterson, Director, The Really Healthy Company Ltd
As a competitive sportman from various back grounds Im always keen on learning new techniques and lifts that are specific to my sports, Sabinas input and instruction was clear, concise and relevant. An excellent coach with the skills to make her clients excellent athletes!!
--Rob Creighton S&C Coach, Ironman Triathlete
---
Sign-up Now! This is my last UK course
---
Registration Fee: 621 GBP ($995.00)
Cancellation Policy:
If you provide notice that you will not be able to attend the workshop at least 45 days in advance of the workshop you will have the option of a full refund or a transfer to a same value workshop of your choice. If after 45 days, the full refund option will be void. However you will still get the transfer option as long as you provide notice at least two days before the workshop. If notice is not provided within two days of the workshop, there will be a $25.00 transfer fee. I also reserve the right to cancel the course 30 days in advance. In the event that the course is canceled, all attendees will receive a full refund.